Get your hands on profitable products only!
No Credit card required. Cancel Anytime.
See your eligibility status instantly, and easily submit approval requests!
Amazon has designated some categories and products as 'restricted' to protect customers. Sellers must first obtain approval before selling any restricted items. Some brands, such as Nike and Gucci, are restricted too. We make it much easier for sellers to check their eligibility status and submit selling applications!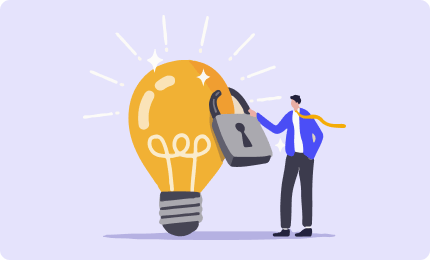 Choose Products with No IPI issues
Intellectual Property Infringement (IPI) refers to violating an intellectual property right. If a certain Amazon product listing is already someone else's IP, the Restrictions Checker indicates that. This helps you avoid such products so you don't face any IPI issues later on.
Shows Any Dangerous Aspects Related to a Product
Perhaps a product you're considering dealing in is flammable, or maybe it is toxic. You certainly don't want to invest in any such goods that may present problems for you later, right! The Restriction Checker identifies any such issues so you can dodge dangerous goods.
Shows if Product is Oversized or Not
Find out the product size tier of a product based on its unit weight, dimensional weight and product dimensions. It helps you calculate the different fees involved in buying and selling that item so you know the investment involved, and whether or not the product will be a profitable item for you.
Find Perishable and Seasonal Products Timely
Heat-sensitive inventory aka meltables are all the goods that melt away under high temperatures. Find out such products easily with the Restriction Checker so you know if to invest in a seasonal product, or let go of a meltable.
Highlights the BSR of Products
You surely want to be a kickass Amazon seller right? Find out which products are doing well on Amazon by checking their BSR (Best seller Rank) through the Sales Estimator. Deal in only the best selling items, and scoot your way to success.
Figure Out The Rank Drops
The Rank Drops are indicative of product sales. The lower the rank of a product, the bigger are its sales estimates. Determine some promising products on Amazon easily with Sellerwiz. How? By checking and analyzing an Amazon product's rank drops with the Sales Estimator feature.
Gives Accurate Sales Estimates
Get Correct Estimates of Product Sales
No need to rely on inaccurate numbers anymore. The 'Sales Estimator' feature on Sellerwiz provides you with accurate numbers (determined using logical calculations and data) on the sales of different products, helping you identify the best-selling Amazon items.
Provides Historical Sales Data
Know the Sales History of Different Items
Some products may be doing well now, but are likely to experience a dip in their sales in the future. Knowing their sales history gives good insight into how well a product may do in the long run.
Check Your Competition's Buy Box Concentration
83% of all Amazon sales are courtesy of the Buy Box. Makes sense for all the sellers to fancy a share of it. The Buy Box keeps rotating between sellers with Buy Box Eligibility. Figure out your chances of winning the Buy Box by checking your competition's Buy Box Concentration. If they are lucky to have it, chances are your listing might get you a piece of it too.
Evaluate Your Offer's Standing
Know Where Your Offer Will Stand
The wise way to kickstart your FBA business lies in making calculated decisions, not second-guessing things. Foresee where your offer stands amongst the competition on Amazon. This allows you to plan the appropriate marketing and financial strategies to beat the competition.
Shows Competitor's Inventory
Analyze the Competitors' Inventory Turnover Time
Wisely strategize your business and marketing approach by analyzing your competitors' inventory turnover time. High inventory turnover indicates the products sell out fast, while a low rate points to weak sales. Identify your inventory turnover time using that knowledge to know the challenges and opportunities you may face.
Listing Information Provider
Helps Users Know if Amazon is On the Listing
Insights into a listing are crucial to choose the right products for your business. The Competition Analyzer provides information on whether or not a listing is on Amazon, ensuring you don't invest in a listing that is suppressed on Amazon.
Tells if Current Price is Inflated
Conduct Comparison to Avoid Being Misled
You may find some highly profitable items on Amazon only to realize later that their prices were misleading. Avoid the trouble by checking the correct and current prices of Amazon products and comparing them with the historical averages using the Prices Table in Sellerwiz.
Gives Historical Comparison
Indicates Current Price Vs. 90 Days Average
Found a product with a huge profitability margin? Hold your horses before investing in it right away? Before putting your foot down, check its 90-days average price. See how the product's been doing on a 3-month stretch. This allows you to opt for products with consistent prices so you put your best foot forward.
Conveniently Puts the Price as Sell Price on the Calculator
The Price Stability Checker in Sellerwiz allows you to conveniently add the desired price as the 'sell price' on the calculator. With a single click, you can use a certain figure as the product's selling price. Conduct comparison amongst different selling prices to determine the most fitting one.
Calculates Complete Profitability
Identify Products with Big Gains
You may come across Amazon products that catch your fancy, and you may even be tempted to invest in them. A wise move is to check their profitability with The 'Profitability Calculator' on Sellerwiz first. You certainly don't want to waste your efforts on products with little to no gains.
Shows Detailed Selling Fees
Figure Out The Right Selling Price of Products
Check out all the detailed selling fees involved with an Amazon product to figure out the selling price you need to charge for it. This also helps you assess whether or not the product can bring you the desired profits so you invest your funds in the lucrative products only.
Get Accurate Estimate of Breakeven Price
Know the breakeven price of the products you are considering selling right away. This helps you determine and plan your weekly and monthly goals, annual goals as well as the pricing goals. Plus, it helps you determine the right buy price of the product too.
Shows Products' Winning Frequency
Find Historic Frequency of Products Sold with Profit
Find out where the historic win frequency of an Amazon products lies on a scale from very high to very low. The Profitability Calculator provides insights into the historic frequency of when products were sold with a profit so you can assess the most lucrative products and opt for them.
Highlights Profitable Products with Their Score
The 'Automated Scoring' feature is created using a sound logic of scoring based on different factors such as profitability, its sales, competition, and possible restrictions. The score helps you find good, money-making products so you are not misguided by the unprofitable ones.
Set Your Own Acceptable Criteria
Wondering if you could achieve your desired profit with a certain Amazon product? Why not figure that out right away? Set your personal criterion for profit to analyze if the lead has the money making potential your heart desires for. Find the profit-making lead you need, and brew your success story.
Historical Prices in A Single Graph
No need to spend your energy and time analyzing and verifying the prices of Amazon products from different sources. With the Price BSR and Offers Graph, you get all that information in a single graph. This calls for efficient evaluation that allows you to pick great, money making products.
Evaluate Products' BSR History in One-Go
The BSR of different Amazon products keeps changing with time. Prior to putting your money on a product, it is only wise to check its BSR and the fluctuations it has experienced with time. You can do that easily with the Price BSR and Offers Graph in a single go and focus better on your business.
Graphically Offer Representation
Informs the Number of Sellers Offering a Product
Get complete information on how many sellers are offering a certain product. The more the offer it is, the higher the competition in that niche. This feature helps you discern high offers from low ones so you focus on the latter, and steer away from excessive competition.
Insight into Profitable Listings
Establish a Stable Business with Profitable Listings
Building a stable business with FBA demands finding highly profitable products. Struggling with identifying such listings? With the 'Sensitivity Analysis' feature in Sellerwiz, that is easily doable. Get a detailed graphical representation of a listing's profit to locate the ones that can bring in big bucks.
Presents Variations in Demand
Choose Variations High in Demand
Check out the number of reviews of different product variations to figure out the ones with huge demand. Investing in trending product variations that the customers love can prove to be quite a lucrative approach for you.
Organized Information Table
Find Peak prices, BSR, Rating & Other Information All in an Organized Form
The 'Variation Viewer' provides complete insight into the different kinds of important information relevant to an Amazon product. Find out a product's rank, BSR, price and other details in an organized table to make a wise decision about choosing or leaving it.
Organize Your Leads Systematically
Streamlining leads to review the tons of Amazon listings you're considering can be quite taxing! Breathe ease and convenience in your life with the Sellerwiz Export feature. Work on the Amazon page with sellerwiz extension, and then export the data from the Sellerwiz extension to googlesheets. All your data gets organized systematically while you can review listings conveniently.
Quick and Simple Column Customization Saves Time
Easily customize all the  columns you need according to your requirements. Deactivate rows, add in more columns, reorder everything, and do whatever you please. Personalize the data sheets and export them from the Sellerwiz extension to Gsheets whenever needed.
Setting Up the Feature is Simple and Straightforward
No need to spend hours setting up the 'Export' feature. All you need to do is log into your Google account, and easily set up the feature. Once you are done, you can export your required data from Sellerwiz to the Google sheets.